Wednesday, May 17, 2017
ON THIS DAY                                                                          
Patrick Duffy as Bobby Ewing "died" in the eighth season finale of the original"Dallas" on CBS in 1985. Of course, it was all a dream!…Long-running"Beverly Hills, 90210" concluded on Fox in 2000 after 10 seasons with the wedding of David (Brian Austin Green) and Donna (Tori Spelling)…Celebrity Birthdays: "Full House" Dad Bob Saget is 61; Craig Ferguson is 55; Derek Hough from "Dancing With the Stars" is 32.

-Did You Know?:
Immediately following "Dallas," Patrick Duffy segued into ABC kids-themed comedy "Step by Step" opposite Suzanne Somers. Minus the one season when Duffy was not on "Dallas" and he was a staple on Friday evenings from 1979 to 1998.
RATINGS BOX                                                                            
Note: The metered market (overnight) ratings for Tuesday, May 16 were not available at press time.
Live + Same Day Data
Monday 5/08/17: Click here
Tuesday 5/09/17: Click here
Wednesday 5/10/17: Click here
Thursday 5/11/17: Click here
Friday 5/12/17: Click here
Saturday 5/13/17: Click here
Weekly Ratings Scorecard – Week of May 8, 2017
-Total Viewers:
CBS: 7.03 million (- 8), NBC: 5.10 (- 5), ABC: 4.04 (-21), Fox: 2.37 (-15), CW: 1.31 (-15)
-Adults 18-49:
NBC: 1.1 rating/4 share (no change), CBS: 1.0/ 4 (-17), ABC: 0.9/ 4 (-25), Fox: 0.7/ 3 (-22), CW: 0.5/ 2 (-17)
-Adults 25-54:
CBS: 1.5/ 5 (-17), NBC: 1.4/ 5 (-17), ABC: 1.2/ 4 (-20), Fox: 0.9/ 3 ()18), CW: 0.5/ 2 (-17)
-Adults 18-34:
NBC: 0.7/ 4 (no change), ABC: 0.6/ 3 (-25), CBS and Fox: 0.5/ 3 (-29 each), CW: 0.4/ 2 (-20)
Source: Nielsen Media Research
NETWORK UPFRONT PROGRAMMING ANNOUNCEMENTS
Coming This Fall: "Shark Tank" vs. "Sunday Night Football"
From PromaxBDA: Unlike NBC and Fox, ABC is taking a lot of shots next season. Thirteen new series, in total, are on tap for 2017-18, with five coming this fall. The breakdown is seven dramas, three sitcoms, and three non-scripted entries including spin-offs from "Dancing with the Stars" and "The Bachelor," and the already-confirmed return of "American Idol," with Katy Perry signing on as a judge.
In addition, ABC announced a revival of "Roseanne" starring much of the original cast, including Roseanne Barr and John Goodman, that's on the slate for October 2018 to celebrate the 30th anniversary of the show's premiere.
With more of an emphasis on scripted dramas, ABC has chosen to pare down the number of sitcoms from 10 to eight, following the demise of Friday night's "Last Man Standing" and "Dr. Ken," both of which will be replaced by a retooled "Once Upon a Time." With Friday viewing levels on the downside, the addition of newbie "Marvel's Inhumans" out of "Once Upon a Time" is a step in the right potential direction. And the relocation of Friday night 9 p.m. mainstay "Shark Tank" to Sunday in the same hour, out of relocated game show "To Tell the Truth" and into new drama "Ten Days in the Valley" means that ABC is banking on the sharks to put a dent in competing "Sunday Night Football" on NBC. Good luck to Marc Cuban,  "Mr. Wonderful"  and the "Queen of QVC!"
Two current dramas, "Marvel's Agents of SHIELD" and "Quantico," will return in midseason at a reduced episode order. In the specials department, both musicals, are "The Wonderful World of Disney: The Little Mermaid Live!" and "Rolling Stone 50." For more, including an analysis of what this really means, click here
–Fox in 2017-18: Six New Series; Three Newbies This Fall: For more, click here
–NBC to Revive "Must See" Branding This Fall: For more, click here
NEW PROGRAMMING ANNOUNCEMENTS
ABC Orders "Grey's Anatomy" Spin-Off
ABC has issued a straight to series order from Shondaland and from the producers of "Grey's Anatomy," "Scandal" and "How to Get Away with Murder" for a new scripted drama about a group of heroic Seattle based firefighters. The logline: From the captain to the newest recruit, we follow these brave men and women as they risk their lives and their hearts both in the line of duty and off the clock.
Stacy McKee will write the script for the project and executive produce the series. Shonda Rhimes and Betsy Beers are executive producers. The series, which has no confirmed start date or episode order, will be produced by ABC Studios.
HBO Picks Up Limited Series "The New Pope"
HBO has ordered "The New Pope," a new limited series created and directed by Paolo Sorrentino – the creator and director behind "The Young Pope," which starred Jude Law and aired earlier this year. This will be an entirely new miniseries, with a new cast and plot yet to be revealed. Production of "The New Pope" will begin later this year, with HBO co-producing with European media company Sky. Sorrentino will co-write with Umberto Contarello.
NOTES OF INTEREST
Jimmy Kimmel to Return as Host of "The Oscars"
The Academy of Motion Picture Arts and Sciences has announced that Jimmy Kimmel will return for the upcoming 90th "Academy Awards" telecast on ABC. Producers Michael De Luca and Jennifer Todd will also return next year.
"Mike and Jennifer produced a beautiful show that was visually stunning. And Jimmy proved, from his opening monologue all the way through a finale we could never have imagined, that he is one our finest hosts in Oscar history," said Academy President Cheryl Boone Isaacs in a statement.
The late-night host presided over the ceremony in February that ended with "La La Land" mistakenly being named best picture instead of the actual winning film "Moonlight."
New Fall 2017 Primetime Line-Ups
–NBC: Click here
–Fox: Click here
–ABC: Click here
Programming 101: The Best and the Worst Decisions of 2016-17: Clickhere
Cable Upfront Recaps at PromaxBDA:
-BET Announces New Series from Kevin Hart, Chris Rock and Steve Harvey – Click here
-TV One Looks to "Represent" the African American Community – Click here
–Freeform Prepares for Life Without "Pretty Little Liars" – Click here
–More Scripted Programming on Tap at Nat Geo – Click here
-Pop Targets "Modern Grown Ups" with New Slate – Click here
-Discovery Turns Its Focus to Digital – Click here
-Lifestyle Matters, According to Scripps – Click here
-Nickelodeon Touts 700 Hours of Original New and Returning Programming – Click here
MARK YOUR CALENDARS
GSN has announced that upcoming game show "Emogenius," hosted by Hunter March, will debut on Wednesday, June 14 with back-to-back episodes. "Emogenius" is a new half-hour comedic game show based on communication that uniquely taps into the popularity of emojis and text messaging.  The show features two pairs of contestants who face off to put their emoji-solving skills to the test for a chance to win $10,000.
Upcoming dark comedy "Get Shorty" will open on EPIX on Sunday, Aug. 13 at 10 p.m. ET. The logline: Chris O'Dowd plays Miles Daly, a hitman from Nevada who tries to become a movie producer in Hollywood as a means to leave his criminal past behind and win back his recently-estranged family. There, he meets Rick Moreweather (Ray Romano), a washed up producer of low quality films who is desperately hanging on to the rungs of Hollywood relevancy and begrudgingly becomes Miles' partner and guide through the maze of show business. Along with his criminal associate Louis (Sean Bridgers), Miles attempts to keep his worlds from colliding as he balances the demands of filmmaking while keeping the suspicions of the crime ring's chief – and production bankroll – Amara (Lidia Porto) and her dangerous nephew, Yago (Goya Robles) at bay. Ten episodes have been ordered.
SCHEDULES
2017 NBA Playoffs Conference Finals TV Schedule on TNT and ESPN
The NBA has reached its final four for 2016-17. It seems the two teams in the NBA Finals for the past two years — the Golden State Warriors and the Cleveland Cavaliers — are on a collision course to meet again in the NBA Finals for the third consecutive year. But Golden State must get past the second-seeded San Antonio Spurs in the Western Conference.
In the East, LeBron James reaches his ninth career Eastern Conference Finals series in his 14 years in the NBA. It's also his seventh straight (2011-17). His team, the Cleveland Cavaliers, entered the playoffs as the East's No. 2 seed and will face the top-seeded Boston Celtics.
TNT and ESPN will broadcast all the action in the United States. For the scheduled game start times (all times Eastern; start times subject to change), respective networks and announcers for the Conference Final round of playoff action, click here
PI POLLS
What do you think about ABC reviving sitcom "Roseanne" in 2018? Click here
ON THE AIR

TONIGHT


ABC sitcom "Downward Dog" debuts…Concluding for the season: ABC's "The Goldbergs," "Speechless," "Modern Family" and "Designated Survivor;"and NBC dramas "Blindspot" and "Chicago PD." "Criminal Minds: Beyond Borders" ends its two season run on CBS. "Hollywood Medium" returns on E!…Hulu drama "Harlots" ends for the season. For the schedule listings for Wednesday, May 17, click here
The daily trivia question is below "You Might Like."
TRIVIA CHALLENGE    
There is a New Becky in Town
Lecy Goranson will be returning as the oldest Conner daughter in ABC's upcoming revival of "Roseanne." But when Sarah Chalke (who will also return, but in a different role) took over the part for the first time, what classic comedy was the family seen watching at the end of that episode?
a) "Bewitched"
b) "The Brady Bunch"
c) "Gilligan's Island"
d) "I Dream of Jeannie"
e) "The Munsters"
The answer to yesterday's question…
Which one of the following network primetime series will be reaching the 300-episode mark next season?
a) "The Big Bang Theory"
b) "Blue Bloods"
c) "Family Guy"
d) "Modern Family"
e) "NCIS"
Is: c) "Family Guy," which at the end of this current 15th season on May 21 will be at 289 episodes.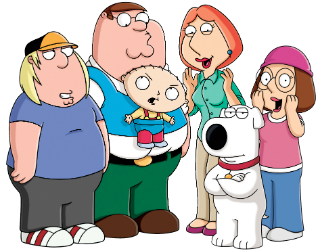 Trivia All-Stars
Latasha Allen, Michelle Bauer, Gerry Bixenspan (1/2), Elvis Bussard, Larry Collins, Steve Ellis, Gail Goins, Maureen Goldman, Bob Ingersoll, Synda Kollman, Alan Perris, Gordon Purcell, Verdi Tzou, Jeanne Yonkers