Monday, May 15, 2017
ON THIS DAY                                                                          
The clan called Anderson reunited for the first of two "Father Knows Best"reunion movies on NBC in 1977…Aaron Spelling crime solver "Starsky and Hutch" concluded its four season run on ABC in 1979…Dumb TV: NBC broadcast "The Harlem Globetrotters on Gilligan's Island" in 1981, the third of three movies that reunited the cast the 1964-67 CBS sitcom"Gilligan's Island"…A classic "jump the shark" moment: Terrorists interupted the wedding of Amanda (Catherine Oxenberg) and Prince Michael (Michael Praed) in the insane "Moldavian massacre" fifth season-finale of ABC's"Dynasty" in 1985…Celebrity Birthdays: Former "The Sopranos" star Jamie-Lynn Sigler is 36.

-Did You Know?:
When the gang of five reunited on "Father Knows Best," Betty (Elinor Donahue) and Bud (Billy Gray) had both gotten married and had families of their own. Betty was the widowed mother of two girls, Jenny (Cari Anne Warder) and Ellen (Kyle Richards), while Bud and his wife, Jean (Susan Adams) were the parents of a son, Robert "Robby" (Christopher Gardner). Kathy (Lauren Chapin) had become engaged to a doctor, Jason Harper (Hal England).
RATINGS BOX                                                                            
Note: The metered market (overnight) ratings for Sunday, May 14 were not available at press time. 
—–
Fast Affiliate Results
Friday 5/12/17: Click here
Saturday 5/13/17: Click here
Live + Same Day Data
Monday 5/08/17: Click here
Tuesday 5/09/17: Click here
Wednesday 5/10/17: Click here
Thursday 5/11/17: Click here
Source: Nielsen Media Research
NEW PROGRAMMING ANNOUNCEMENTS
NBC to Revive Must See TV" Branding This Fall
From PromaxBDA: NBC is hoping to reintroduce its iconic brand of Thursdaynight "Must See TV" via the revival of sitcom "Will & Grace" into season two of Tina Fey and Robert Carlock's "Great News," a new night for sophomore smash "This Is Us," and new limited series "Law & Order True Crime: The Menendez Brothers."
In all, the network will introduce 12 new series throughout the 2017-18 TV season. The breakdown is five new scripted dramas, three new scripted sitcoms, and four new non-scripted entries.
Only three new series are scheduled for this fall: Monday 10 p.m. drama "The Brave" out of "The Voice;" and the aforementioned "Will & Grace" and "Law & Order True Crime: The Menendez Brothers" on Thursday. But the network is shifting five series into new timeslots: comedies "Superstore" and "The Good Place" in the Tuesday 9 p.m. hour; "The Blacklist" leading off Wednesday at 8 p.m.; and dramas "Blindspot" into "Taken" in the Friday 8-10 p.m. block. That means programming changes will be visible each weekday night. For more, click here
CBS Announces Seven New Series In Addition to "Young Sheldon"
CBS will add six additional series to its 2017-18 roster: comedies "9JKL," "Me, Myself & I" and "By the Book;" and dramas "Instinct," "Seal Team," "Wisdom of the Crowd," and a reboot of Aaron Spelling crime solver "S.W.A.T." They join already announced single-camera comedy "Young Sheldon," which is the prequel from "The Big Bang Theory." For a complete description of each new series, click here
USA Orders Drama "Damnation"
USA has placed an order for a new scripted drama called "Damnation," which is set  against the backdrop of the American heartland in the 1930s and centers on the mythic conflict and bloody struggle between big money and the downtrodden, God and greed, charlatans and prophets. The pilot introduces Seth Davenport (Killian Scott), a man masquerading as a small-town Iowa preacher in the hopes of starting a full-blown insurrection against the status quo.
The logline: Focused on his mission, Davenport is unaware that an industrialist tycoon has hired a professional strikebreaker named Creeley Turner (Logan Marshall-Green, Quarry) to stop the uprising by any means necessary. But unbeknownst to those around them, these two men already share a secret bloody past.
SERIES RENEWALS AND CANCELLATIONS
AMC Renews "The Son" for Season Two
AMC has renewed western drama "The Son," starring Pierce Brosnan, for a second season. Debuting on April 8, "The Son" is described as a sweeping saga about a Texas ranching and oil family. Ten new episodes have been ordered.
Network Renewal Scorecard
NBC has issued a renewal for a 19th season of "Law & Order: SVU" on NBC, and has reversed its decision of canceling freshman drama "Timeless" with a 10-episode order for season two. But the network has axed spin-off "The Blacklist: Redemption." CBS has greenlit "The Amazing Race,""Elementary" and "Code Black," but will not move forward on a seventh season of "2 Broke Girls." ABC has issued a two-season pickup to "The Goldbergs," while also re-upping "Dancing with the Stars" and "Shark Tank." And Fox has renewed comedy "New Girl" for a seventh — and final — season.
From Friday: Fox has confirmed that three freshman series – crime solver"APB," comedy "Making History" and "Son of Zorn," a hybrid of live action and animation, will not be returning in 2017-18. Also canceled are ABC's"American Crime," "The Catch," "Dr. Ken," "Imaginary Mary" and "The Real O'Neals;" and NBC's "Powerless." The latest renewals are NBC's "The Blacklist" and recently introduced sitcom "Great News;" and ABC's"American Housewife," "Designated Survivor," "Once Upon a Time" and"Marvel's Agents of SHIELD."
NOTES OF INTEREST
Fox to Air Live Event "A Christmas Story"
Fox and Warner Horizon Unscripted Television are partnering with producer Marc Platt ("Grease: Live," "La La Land") on the live musical event "A Christmas Story," inspired by the holiday classic feature "A Christmas Story" and the Tony Award-nominated Broadway production "A Christmas Story: The Musical." The three-hour live television production of "A Christmas Story" will air this December on Fox.
Benj Pasek and Justin Paul, recent Tony Award nominees for the musical "Dear Evan Hansen," and lyricists of "La La Land's" Academy Award-winning song, "City of Stars," also scored "A Christmas Story: The Musical," and will compose several new songs for the live television event, with Jonathan Tolins and Robert Cary ("Grease: Live") adapting the book.
Programming 101: The Best and the Worst Decisions of 2016-17: Clickhere
Cable Upfront Recaps at PromaxBDA:
-BET Announces New Series from Kevin Hart, Chris Rock and Steve Harvey – Click here
-TV One Looks to "Represent" the African American Community – Click here
–Freeform Prepares for Life Without "Pretty Little Liars" – Click here
–More Scripted Programming on Tap at Nat Geo – Click here
-Pop Targets "Modern Grown Ups" with New Slate – Click here
-Discovery Turns Its Focus to Digital – Click here
-Lifestyle Matters, According to Scripps – Click here
-Nickelodeon Touts 700 Hours of Original New and Returning Programming – Click here
SCHEDULES
2017 NHL Stanley Cup Playoffs Conference Finals TV Schedule on NBCSN and NBC  
The 2017 Stanley Cup Playoffs continue with Conference Final action as it's now down to the final four. The defending Stanley Cup champion Pittsburgh Penguins outlasted the Washington Capitals in seven games in the previous round to advance to the Eastern Conference Finals to face the Ottawa Senators. The Nashville Predators reached their first conference final in their franchise history and will face off against the Anaheim Ducks in the Western Conference Finals.
For the scheduled game start times (all times Eastern; start times subject to change), respective networks and announcers for the Conference Final round of playoff action, click here
MARK YOUR CALENDARS
TLC special "My Big Bollywood Wedding," focusing on the extravagant and glamourous world of Indian weddings, will premiere on Sunday, June 10 at 10 p.m. ET. "My Big Fat Bollywood Wedding" follows three different couples as they create the Indian wedding ceremony of their dreams in America. We see traditional rituals and also get a unique 21st century look into the merging of different cultures, religions and practices – blending traditional Indian wedding ceremonies with modern, Western wedding customs. 
PI POLLS
Which one of the upcoming new NBC primetime series are you most looking forward to? Click here
ON THE AIR

TONIGHT


"Man with a Plan" and "Scorpion" conclude for the season on CBS. Nat Geo Channel premieres "Year Million."  For the schedule listings for Monday, May 15, click here
The daily trivia question is below "You Might Like."
TRIVIA CHALLENGE    
Welcome Back, "Will & Grace"
When NBC's "Will & Grace" debuted on Sept. 21, 1998, what sitcom did it initially immediately follow?
a) "Caroline in the City"
b) "Frasier"
c) "Friends"
d) "Mad About You"
e) "Suddenly Susan"
The answer to Friday's question…
Which one of the following just canceled network series was actually in its second season?
a) "APB" (Fox)
b) "Imaginary Mary" (ABC)
c) "Powerless" (NBC)
d) "The Real O'Neals" (ABC)
e) "Son of Zorn" (Fox)
f) none of them were
Is: d) "The Real O'Neals," which produced 29 episodes on ABC from March 2, 2016 to March 14, 2017.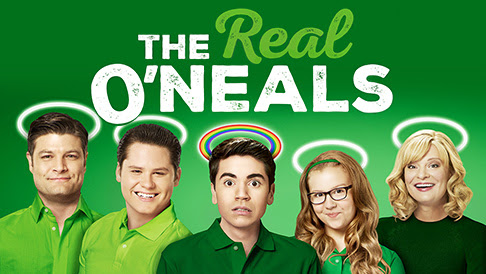 Trivia All-Stars
Latasha Allen, Gerry Bixenspan, Larry Collins, Mark Cosenza, Audrey Davis, Steve Ellis, Gail Goins, Tom Moore, Rob DePascale, Bob Ingersoll, Synda Kollman, Aaron Paquette, Greg Phelan, Art Salish, Nina Lisa Tomlinson, Jeanne Yonkers