Tuesday, May 15, 2018
ON THIS DAY
In 1977, the clan called Anderson reunited for the first of two "Father Knows Best" reunions on NBC…Aaron Spelling crime solver "Starsky & Hutch"concluded its four season run on ABC in 1979…Classic "Jump the Shark" moment: Terrorists interrupted the wedding of Amanda (Catherine Oxenberg) and Prince Michael (Michael Pared) in the insane "Moldavian massacre" fifth-season finale of ABC's "Dynasty" in 1985.

-Did You Know?:
In the "Father Knows Best Reunion" and "Father Knows Best Reunion," one of Betty's (Elinor Donahue) young daughters, "Ellen," was played by Kyle Richards of "The Real Housewives of Beverly Hills."  
RATINGS BOX                                                                    
Monday 5/14/18
Household Rating/Share
ABC: 4.6/ 8, NBC: 4.2/ 7, CBS: 3.2/ 5, Fox: 2.6/ 4, CW: 0.9/ 2
-Percent Change from the Year-Ago Week:
Fox: +18, NBC: – 6, ABC: – 9, CW: -10, CBS: -16
-Ratings Breakdown:
There were two series finales last night – "Lucifer" on Fox and "Superior Donuts" on CBS and they both earned their walking papers. Drama "Lucifer" concluded its two-season run at a 2.4 rating/4 share in the household overnights from 8-9 p.m., which finished a typically distant No. 4 in the hour. Next fall on Fox, "The Resident" moves to Monday at 8 p.m. into relocated "9-1-1."
"Superior Donuts," also ending after two seasons, scored a 3.1/ 5 (#3) in the 9 p.m. half-hour out of a 3.6/ 6 for just renewed "Man with a Plan" (#3: 3.6/ 6 at8:30 p.m.). CBS featured encore telecasts of "The Big Bang Theory" at 8 p.m.(#3: 4.1/ 7) and 9:30 p.m. (#4: 2.9/ 5).
For the remainder of the analysis and the half-hour breakdown for Monday, May 14, click here
Live+Same Day data
-Monday 5/07/18: Click here
-Tuesday 5/08/18: Click here
-Wednesday 5/09/18: Click here
-Thursday 5/10/18: Click here
-Friday 5/11/18: Click here
Source: Nielsen Media Research
NETWORK UPFRONTS
Fox to Launch Just 2 New Series This Fall, Plus "TNF"
From PromaxBDA: Once the home to for edgy and unconventional fare where entries such as "Married With Children," "The X-Files," "Malcolm in the Middle" and "Beverly Hills, 90210" set it apart, the today's so-called New Fox looks more like a retro version of the Big 3 broadcast networks.
With a newfound emphasis on multi-camera comedies, procedural dramas and live sports, Fox has traded its niche approach to a "bigger and broader" philosophy where programming more universal in appeal could result in an older skew. While animated staples like "The Simpsons" and "Family Guy" remain visible, their relevance is no longer as significant.
On the forefront is the arrival of "Thursday Night Football" for five seasons this fall at a reported cost of $550 million annually. And then there is Tim Allen sitcom "Last Man Standing," which after six respectable seasons on ABC, now signals the direction Fox is heading in comedy: multi-camera.
Another sign of that: Fox canceled or ended five single-camera sitcoms: New Girl concluded this season, while Fox opted not to bring back Will Forte's "Last Man on Earth," Andy Samberg's "Brooklyn Nine-Nine," which quickly found a new home on NBC, Kaitlin Olson's "The Mick" and "Ghosted." Fox also canceled two demon-themed dramas: Lucifer and The Exorcist. For more, click here
-NBC: 3 New Shows This Fall; 9 in Total in 2018-19 – Click here
NEW PROGRAM ANNOUNCEMENTS
D.C. Universe Digital Service Greenlights "Doom Patrol"
DC Universe digital service has ordered its next original series, the one-hour live-action drama "Doom Patrol" from executive producers Greg Berlanti, Geoff Johns, Jeremy Carver and Sarah Schechter. Thirteen episodes have been ordered.
The logline: Logline: "Doom Patrol" is a re-imagining of one of DC's most beloved group of outcast Super Heroes: Robotman, Negative Man, Elasti-Girl and Crazy Jane, led by modern-day mad scientist Dr. Niles Caulder (The Chief). The Doom Patrol's members each suffered horrible accidents that gave them superhuman abilities — but also left them scarred and disfigured. Traumatized and downtrodden, the team found purpose through The Chief, who brought them together to investigate the weirdest phenomena in existence — and to protect Earth from what they find. Part support group, part Super Hero team, the Doom Patrol is a band of super-powered freaks who fight for a world that wants nothing to do with them. Picking up after the events of "Titans," "Doom Patrol" will find these reluctant heroes in a place they never expected to be, called to action by none other than Cyborg, who comes to them with a mission hard to refuse, but with a warning that is hard to ignore: their lives will never, ever be the same.
"Doom Patrol" will begin production this year for a 2019 debut on DC Universe.
Freeform Orders "Pretty Little Liars: The Perfectionists"
Freeform is hoping to strike social media gold once again care of "Pretty Little Liars" spin-off, "Pretty Little Liars: The Perfectionists." The series, which initially landed a pilot order back in September, will feature "Pretty Little Liars" stars Sasha Pieterse and Janel Parrish reprising their roles as Alison DiLaurentis and Mona Vanderwaal, respectively. The logline: Reformed from their villainess ways, Alison and Mona are brought together again in the ritzy college town of Beacon Heights, where they work together to move on from their extremely traumatic teenage years. Just kidding, they immediately get drawn into a new mystery when a murder shakes Beacon Heights to its core.
The pilot, written by "Pretty Little Liars" showrunner I. Marlene King, is based on "Pretty Little Liars" author Sara Shepard's book of the same name. "Pretty Little Liars: The Perfectionists" is being produced by Alloy Entertainment and Long Lake Media in association with Warner Horizon Scripted Television.
Netflix Announces RuPaul Comedy "AJ and the Queen"
Netflix has ordered 10 episodes of a one-hour comedy called "AJ and the Queen" from Michael Patrick Queen. from MPK Productions in association with Warner Bros. Television, RuPaul stars as Ruby Red, a bigger-than-life but down-on-her-luck drag queen who travels across America from club to club in a rundown 1990's R/V with her unlikely sidekick AJ, a recently orphaned, tough-talking, scrappy 11-year-old stowaway. As these two misfits, one tall, one small, travel from city to city, Ruby's message of love and acceptance winds up touching people and changing their lives for the better. Oh, and RuPaul performs a killer musical number in every drag club.
Netflix to Launch Anthology "Guillermo del Toro Presents 10 AfterMidnight"
Filmmaker Guillermo del Toro will present a collection of personally curated stories, described as both sophisticated and horrific, in new Netflix anthology series "Guillermo del Toro Presents 10 After Midnight." As creator and executive producer, del Toro will bring his own visionary style as both a writer and director to certain episodes. In addition, he will hand pick a team of the genre's filmmakers to bring his selection of stories to life.
Del Toro reteams with The Shape of Water producer J. Miles Dale, who serves as executive producer, along with Gary Ungar (Exile Entertainment).
With this first live-action series, del Toro and Netflix extend their collaboration, which began with the animated series "Trollhunters" (which returns May 25)
Sponsor
PBS Sponsors See Results! 
New research from Lightspeed/SGPTV shows that PBS viewers are nearly 2x more likely to buy from a PBS sponsor, than commercial cable or broadcast viewers are to buy from advertisers on those networks. PBS's low spot load, loyal & passionate viewers, and high viewer engagement create an environment that is highly effective for corporate sponsors.
Learn more about the best sponsorships on PBS at SGPTV.org
TV UPDATES
New Series Trailers:
-"The Cool Kids" (Fox): Click here
-"Rel" (Fox): Click here
-"The Passage" (Fox): Click here
-"Proven Innocent" (Fox): Click here
-"Manifest" (NBC): Click here
-"New Amsterdam" (NBC): Click here
-"I Feel Bad" (NBC): Click here
"Project Runway" Returns to Bravo Next Season
After a decade on Lifetime, critically acclaimed reality/competition "Project Runway" will be return to its original network, Bravo, in a deal between the NBCUniversal network and Lantern Entertainment. Next season will mark its 17th edition.
A+E Television Networks, the parent company of Lifetime, said in April that the sexual harassment allegations raised against The Weinstein company co-founder Harvey Weinstein had prompted it to terminate its contract for the long-running fashion-themed reality series.
getTV Acquires "Walker, Texas Ranger"
In celebration of the 25th anniversary of the network premiere of "Walker, Texas Ranger," getTV will air the action-adventure series starring Chuck Norris, beginning June 4. Episodes will be broadcast weekdays from 2 to 6 p.m. ET and Sundays from 5-10 p.m. ET.
Originally running for nine seasons, "Waker, Texas Ranger" features martial artist superstar Norris as Cherokee crimefighter Walker, an old-school Texas Ranger partnered with a former Dallas Cowboy wide receiver, James Trivette, played by Clarence Gilyard Jr. ("Matlock"), who believes in a more modern approach involving computers and cellphones. Sheree J. Wilson ("Dallas") is assistant district attorney Alex Cahill, Noble Willingham is Ranger-turned-restauranteur C.D. Parker, and for the last three seasons, Nia Peeples ("Pretty Little Liars") and Judson Mills ("As the World Turns") are rookie Rangers Sydney Cooke and Francis Gage, respectively.
Monday Overnight Scorecard: Click here
MARK YOUR CALENDARS
Upcoming ABC romance reality series "The Proposal," from the creator of "The Bachelor" and hosted by NFL quarterback Jesse Palmer, will debut onMonday, June 18 at 10:01 p.m. ET. In the series, 10 eligible women selected by a blue-ribbon panel of matchmakers vie for a chance at love TV style with mystery suitor Mike, a police officer from Bakersfield, California, in search of his soul mate. By the end of the night, Mike will propose to one of two remaining women. Then, the newly acquainted couple will trust fate and exit the stage possibly engaged to be married.
UPFRONT RECAPS
From PromaxBDA

-Fox to Launch Just 2 New Series This Fall, Plus "TNF": Click here
-NBC: 3 New Shows This Fall; 9 in Total in 2018-19 – Click here
-Univision Plans for Future Amid Continued Cost Cutting – Click here
-YouTube Boasts Both Scale and Safety at NewFronts – For more, click here
-Hulu Crosses 20 Million Subscriber Mark – Click here
-Linear Model Still Matters for Optimistic PopTV – Click here
-Connector's Remain Sony Crackle's Key Target – Click here
-Nat Geo Combines Science, Exploration Storytelling to Broaden Brand – Clickhere
-"New" Discovery Touts Scripps Networks Expansion at Upfronts: Click here
-With "Portlandia" Done, IFC Renews "Brockmire," "Documentary Now" – Clickhere
-A+E Celebrates Females in Women's Upfront – Click here
-Nickelodeon to Reboot "Blues Clues;" Introduce New Version of "TMNT" – Clickhere
SPORTS
2018 NCAA Division I Softball Regionals TV and Announcer Schedule
The networks of ESPN continues as the home of the NCAA Division I Softball Championship, televising every game of the Super Regionals and Women's College World Series (WCWS), as well as coverage of nearly all regional play.
The NCAA Division I Softball Committee determined the field which was announced during ESPN's NCAA Softball Championship Selection Special on Sunday, May 13. The top 16 teams are seeded and serve as hosts for the regional round, playing at their own campus sites. ESPN will carry the games across a variety of its networks — ESPN, ESPN2, ESPNU, ESPN3, and SEC Network. Each regional is a four-team, double-elimination tournament, concluding with one team advancing to the Super Regionals and reducing the field from 64 teams to 16 in the process.
For the scheduled game start times (all times Eastern; start times subject to change), locations and respective networks, click here
-2018 NBA Playoffs Conference Finals TV and Announcer Schedule – Click here
-2018 NFL Regular Season Weekly TV Schedule on Fox, CBS, NBC, ESPN, and NFL Network – Click here
-2018 NFL Monday Night Football Schedule on ESPN – Click here
ON THE AIR 

TONIGHT
Series finales: Fox's "New Girl" and freshman NBC drama "Rise"…Season finales: "black-ish" on ABC and "NCIS: New Orleans" on CBS..HGTV debuts"Hidden Potential"…For the primetime schedule for Tuesday, May 15, clickhere
TRIVIA CHALLENGE    
D'Oh!
What season is animated Fox mainstay "The Simpsons" heading into in 2018-19?
a) 25
b) 28
c) 30
d) 32
e) 35
The answer to yesterday's question…
If you added up the number of seasons on the air at present for "Chicago Fire," "Chicago PD" and "Chicago Med," how many in total would that be?
a) 11
b) 12
c) 13
d) 14
e) 15
...d) 14. "Chicago Fire" (6) + "Chicago PD" (5) + "Chicago PD" (3) = 14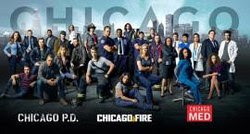 Trivia All-Stars
Gerry Bixenspan, Larry Collins, Maureen Goldman, Caryn Gray, Bob Ingersoll, Tom Moore, Gordon Purcell, Michelle Stanton