Tuesday, September 19, 2017
ON THIS DAY
Mary Tyler Moore "made it after all" in her self-titled CBS comedy, which premiered in 1970.  It aired for seven seasons and spun-off "Rhoda," "Phyllis" and "Lou Grant"…Other notable series premieres: "Highway to Heaven" on NBC in 1984, syndicated action/adventure "Renegade" in 1992,"ER" on NBC in 1994, "Judging Amy" on CBS in 1999, and Eye net sitcom"How I Met Your Mother" in 2005…Celebrity Birthdays: "NCIS" star David McCallum is 84; Former "Emergency!" star Randolph Mantooth is 72; Oscar winner Jeremy Irons is 69; model Twiggy is 68; "Real Housewife" Kim Richards is 53; country singer Trisha Yearwood is also 53; NBC's Jimmy Fallonis 43; daytime soap star and "The Biggest Loser" host Alison Sweeney is 41.

Did You Know?:
Although "The Mary Tyler Moore Show" is credited for being the first sitcom to focus on a single, independent woman, that distinction actually goes to"That Girl," which starred Marlo Thomas and aired on ABC from 1996-71…"ER," which ran for 15 seasons, was the top-rated show in all of primetime in the 1995-96, 1996-97 and 1998-99 seasons.  Overall, it finished in the Top 5 from 1994 to 2003 and is the longest running medical drama in the history of television…If you grew up in the "Brady Bunch" era, you might remember Kim Richards as little Prudence Everett on 1970-71 ABC sitcom "Nanny and the Professor." 
Sponsor
What is the scientific name for animals that suck the blood
out of living things?
Ex-wives!
RATINGS BOX                                                                            
Monday 9/18/17
Note: Ft. Myers, Jacksonville, Miami, Orlando, Tampa and West Palm Beach are excluded from the following averages.
Household Rating/Share
ABC: 6.2/10, NBC: 3.0/ 5, CBS: 2.9/ 5, Fox: 1.7/ 3, CW: 0.6/ 1
-Percent Change from the Year-Ago Evening:
Note: Sept. 19, 2016 was the official start of the 2016-17 TV season
ABC: + 2, CW: -14, Fox: -41, CBS: -57, NBC: -58
-Ratings Breakdown:
It was an easy Monday overnight victory for ABC care of the season-premiere of "Dancing with the Stars," which topped the night at a 7.6 rating/12 share in households from 8-10 p.m. ET. Comparably, this was right on par with the year-ago evening (which was the first official night of the 2016-17 TV season, featuring the return of NBC's "The Voice," CBS' "The Big Bang Theory" and other original programs). So, the better comparison was the year-ago season-opener of "Dancing with the Stars" on Sept. 12, 2016, which averaged an 8.6/14 in the household overnights. And that translated into 12.18 million viewers and a 2.1 rating/7 share in adults 18-49, based on the Live + Same Day data. In other words, "Dancing with the Stars" is down, but still solid.
Proof lead-in still matters was the season-finale of ABC game show "To Tell the Truth," which out of "Dancing with the Stars" rose to a summer high 3.5/6 (#1) at 10 p.m. Opposite "To Tell the Truth" was the season (or series) finale of NBC drama "Midnight, Texas" at a mere 1.7/ 3 (#3), which certainly does not bode well for renewal.
Also concluding for the season last night was demo friendly "American Ninja Warrior" on NBC at a 3.7/ 6 in the household overnights from 8-10 p.m. Also featured in the block was Fox's tired "So You Think You Can Dance" at a 1.7/ 3. The rest of the evening was all repeats.
For the complete listing for the five broadcast networks by half-hour for Monday, Sept. 18, click here
—–
Live + Same Day Data
-Monday 9/11/17: Click here
-Tuesday 9/12/17: Click here
-Wednesday 9/13/17: Click here
-Thursday 9/14/17: Click here
-Friday 9/15/17: Click here
Source: Nielsen Media Research
NEW PROGRAMMING ANNOUNCEMENTS
Fox to Develop a TV Series Version of James Cameron's "True Lies"
"True Lies," the 1994 action comedy with Arnold Schwarzenegger from director James Cameron, could be following in the same path as "Lethal Weapon" this season. Fox  has given a put pilot commitment for an hour-long reboot of the film, which comes from McG, "Arrow" co-creator Marc Guggeheim, Cameron's Lightstorm Entertainment and 20th Century Fox TV. The original film also starred Jamie Lee Curtis, Tom Arnold, Bill Paxton, Tia Carrere, Art Malik, Eliza Dushku and Grant Heslov, and it followed U.S. government agent Harry Tasker (Schwarzenegger) as he balanced his life as a spy with his familial duties.
"True Lies" is certainly not the only reboot in the works. Also in contention at present is a live action version of "The Jetsons" at NBC, "The Munsters" and a female-led "Greatest American Hero" at ABC, and  "Starsky and Hutch" at Amazon. What could be next?
SERIES RENEWALS AND CANCELLATIONS
Pop Renews "Hollywood Darlings" for Season Two
Pop has issued a second season renewal to docuseries "Hollywood Darlings," which follows real-life friends and former child stars Jodie Sweetin ("Full House," "Fuller House"), Beverley Mitchell ("7th Heaven") and Christine Lakin ("Step By Step").
On the next season, Sweetin, the mother of two young girls, has recently wrapped production on season three of "Fuller House" and is in production on the upcoming Hallmark movie "Finding Santa. Mitchell, who is married with two kids, recently appeared on ABC's revival of "Battle of the Network Stars." And Lakin, a new mom and wife, is filming a role in the drama "I Am That Man," along with co-hosting "Worst Ever Podcast."
E! Cancels "Mariah's World"
E! has opted against a second season of docuseries "Mariah's World," featuring Mariah Carey. Debuting on December 4, 2016, the eight-episode series followed the life of the singer as she began her The Sweet Sweet Fantasy Tour around Europe and planned to get married. The network has initially planned to run it for only one season.
HGTV Picks Up New Season "Love it Or List It"
HGTV has announced 20 new episodes of "Love It or List It," featuring designer Hilary Farr and real estate expert David Visentin. The series follows the duo as they help homeowners decide to either love their existing newly renovated home by Hilary or purchase a perfect home that David finds to meet all their needs. The new season is scheduled to premiere in July 2018.
NEWS OF NOTE
Entertainment Studios Launches Sports.TV
Independent production company and distributor Entertainment Studios has announced the launch of its new, direct-to-consumer global streaming OTT subscription platform, Sports.TV, which it is projecting will reach 50 million worldwide subscribers over the next five years. Sports.TV has aggregated high-profile and independent sports networks on one platform, connecting real sports fans to their favorite regional, national, and global sports channels, teams, games, players, highlights, and scores on every device worldwide. Sports.TV will be available on all devices — including smartphones, tablets, smart televisions, gaming consoles, as well as personal computers and laptops.
"The appetite for live sports programming is insatiable, and consumers worldwide are making it very clear they want to access this content on every device, wherever they go," said Byron Allen, Founder, Chairman, & CEO of Entertainment Studios. "Sports.TV is an innovative global OTT subscription service that aggregates both live sports networks and premium sports content on one digital platform, giving our subscribers complete access to all of their favorite teams and players on every device worldwide."
The Best and Worst TV Programs of Summer 2017
With just six days until the official start of the new TV season on Sept. 25th, let's take a look back at the best—and the worst—shows of the summer. Clickhere
EXECUTIVE ANNOUNCEMENTS
Anhelo Reyes has been named to the newly created position of Senior Vice President, Consumer Marketing for Paramount Network, which launches in January 2018. In her new position, Reyes will be responsible for driving the development and execution of all brand and franchise consumer marketing strategy including overseeing all off-channel marketing with paid media, events and promotions, and promotional partnerships. She will also be charged with developing the digital strategy to drive growth and engagement across Paramount Network's owned and operated platforms. Reyes most recently served as Vice President, Brand Marketing and Activation for Spike TV (soon to be Paramount Network).
MARK YOUR CALENDARS
Season two of Crackle drama "StartUp," starring Martin Freeman as Phil Rask, an FBI Agent who finds himself hunting down GenCoin, an unregulated gobal cryptocurrency, in search of money that's owed to him, will be available for streaming on Thursday, Sept. 28. The 10-episode, one-hour original drama picks up on the streets of Miami following the takeover of GenCoin. With their startup now in the hands of the Russian Mob, our unlikely trio, Izzy Morales, Ronald Dacey, and Nick Talman, reinvest in their partnership and launch an exciting new endeavor, a darknet prototype called ArakNet. But as their decentralized network begins to grow, so too does the peril, the corruption, and the moral turpitude.
"Star Talk with Neil deGrasse," the first-ever science based talk show on television, will return with the first of 20 new episodes on Sunday, Oct. 1 at 11 p.m. ET. Guests in this upcoming season will include Katy Perry, Stephen Colbert, Lance Armstrong, Kareem Abdul-Jabbar, Jane Goodall, Stephen Hawking, Katie Couric, Kevin Smith, Sylvia Earle, Fabien Cousteau, Adrien Grenier and filmmaker James Cameron.
Showtime will debut documentary "George Michael: Freedom" onSaturday, Oct. 21 at 9 p.m. ET. The film will span of his entire career, concentrating on the formative period in the late Grammy Award winner's life and career, leading up to and following the making of his best-selling album "Listen Without Prejudice Vol. 1" and his subsequent and infamous court battle with his record label that followed.  Filmed before Michael's untimely passing, the documentary is narrated by the singer and features unseen archival and private home footage. The film also features interviews with Stevie Wonder, Elton John, Ricky Gervais, Nile Rogers, Mark Ronson, Tracey Emin, Liam Gallagher, Mary J. Blige, Jean Paul Gaultier, James Corden and Tony Bennett. For a preview, click here
PI POLLS
Who do you think will be the first celebrity to depart from ABC's 'Dancing with the Stars' this season? Click here
ON THE AIR 

TONIGHT


NBC offers "Will & Grace Paley Special"…ABC summer drama "Somewhere Between" concludes…Season premieres: "If Loving You is Wrong" on OWN,"The Little Couple" and "7 Little Johnstons" on TLC…Season finales:"Being Mary Jane" on BET, "The Filthy Rich Guide" on CNBC, "The Night with My Ex" on Bravo, "Ink Master" on Spike TV and "So Sharp" on Lifetime…For the complete listing for Tuesday, Sept. 19, click here 
TRIVIA CHALLENGE    
Just One Actress
Which one of the following TV characters was played by only one actress?
a) Bobbie Jo Bradley
b) Ciji Dunne
c) Paige Thatcher
d) Jenna Wade
e) Harriette Winslow
The answer to yesterday's question…
Which one of the following five TV kids was first season it his or her show's final season?
a) Serena Burton – "The Waltons"
b) Dorothy "Dodie" Douglas – "My Three Sons"
c) Olivia Kendall – "The Cosby Show"
d) Ricky Stevens – "The Partridge Family"
e) Seven Wanker – "Married with Children"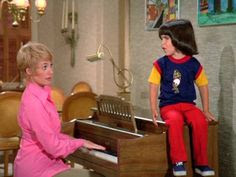 …Is: d) Ricky Stevens. Played by four-year-old Ricky Segall, next door neighbor Ricky would pop by to sing a song off key for no apparent reason. After 10 episodes of this torture, this little Ricky stayed home and was never seen again. For a look, click here
Trivia All-Stars
Steve Bitterman, Gerry Bixenspan, Larry Collins, Mark Cosenza, John Ferlazzo, Bob Ingersoll, Tom Moore, Gordon Purcell, Joe Rubi