Tuesday, August 15, 2017
Countdown to the Start of the New TV Season:
 34 days
ON THIS DAY                                                                           
In 1992, HBO introduced the satirical comedy, "The Larry Sanders Show," with comedian Garry Shandling as host of a "

Tonight

 Show"-style talk show. It ran through May 31, 1998, producing 89 episodes…Celebrity Birthdays: "The Dick Van Dyke Show" star Rose Marie is 94; "Will & Grace'" Debra Messing is 49; "black-ish" star Anthony Anderson is 47; Oscar winner Ben Affleck is 45; Oscar winnerJennifer Lawrence is 27.

-Did You Know?:
Garry Shandling based "The Larry Sanders Show" on his experience as the  Monday night guest host of NBC's "The Tonight Show Starring Johnny Carson"from 1986 to 1987. Throughout the course of the series, a total of 187 celebrities appeared as themselves.
RATINGS BOX                                                                            
Monday 8/14/17
Household Rating/Share
ABC: 3.2/ 6, NBC: 3.1/ 5, CBS: 2.3/ 4, Fox: 2.2/ 4, CW: 0.7/ 1
Note: Comparisons to the year-ago evening are excluded since NBC aired the 2016 Summer Olympics.
-Ratings Breakdown:
ABC inched past NBC for Monday overnight dominance, with the return of "Bachelor in Paradise" top-rated for the evening at a 3.8 rating/6 share in households from 8-10 p.m. Comparably, this was right on par from the year-ago evening and six percent above competing "American Ninja Warrior" on NBC (3.6/ 6). The battle among the key demographics should be a close call between the two reality series.
Despite the respectable lead-in support, a Monday 10 p.m. edition of ABC's "The Gong Show" dipped to a 2.1/ 4, which still tied scripted drama "Midnight, Texas" on NBC for first  in the time period. Third was recently introduced CBS newsmagazine "CBSN: On Assignment" at a mere 1.9/ 3. Pathetically, the three series in the 10 p.m. hour only totaled a 6.1 overnight household rating.
Also original last night was Fox's tired "So You Think You Can Dance" at a typically diluted 2.2/ 4 from 8-10 p.m. And docuseries "Hooten & the Lady" on the CW scored a 0.6/ 1 (#5) at 9 p.m. out of a 0.7/ 1 for an encore telecast of "Supergirl."
For the complete half-hour breakdown for Monday, August 14, click here
Live + Same Day Ratings
Monday 8/07/17: Click here
Tuesday 8/08/17: Click here
Wednesday 8/09/17: Click here
Thursday 8/10/17: Click here
Friday 8/11/17: Click here
Source: Nielsen Media Research
NEW PROGRAMMING ANNOUNCEMENTS
Nia Vardalos to Headline and Co-Write "Suburbs Famous" Dramedy for Bravo
Nia Vardalos will headline a proposed dramedy at Bravo tentatively called "Suburbs Famous." Co-written by Vardalos and former "Raising Hope" showrunner Mike Mariano, "Suburbs Famous" explores what happens after a suburban housewife (Vardalos) accidentally becomes famous in a viral video. Thrust into the cutthroat world of celebrity chefs, the newly divorced mom must navigate between the intense public scrutiny which could destroy her and the investors who want to make her a star… all while realizing she suddenly has the one thing everyone wants: power.
Vardalos will reportedly "mine some of her own experiences of becoming an overnight sensation" after the release of theatrical "My Big Fat Greek Wedding" in 2002, as well as the time she crossed paths with the Chewbacca Mom, who rose to overnight fame after donning a Chewbacca mask in a Kohl's parking lot
ITV Studios America is co-producing with Universal Cable Prods. Vardalos, Mariano and Krantz executive produce with Untitled Entertainment's Jennifer Levine and Stephanie Simon. Flame Ventures' John–Eric Capps is a co-executive producer.
SERIES RENEWALS AND CANCELLATIONS
Rumors of a Revival of "Hannibal" are Circulating
"Hannibal" creator Byron Fuller and executive producer Martha De Laurentiis posted a picture together on Twitter with a Hannibal doll captioned "Meeting of the minds," suggesting there are conversations to revived the 2013-15 NBC psychological thriller. Shortly before Fuller, who is currently serving as the executive producer of Starz drama "American Gods," tweeted that conversations had started about the potential revival.
"Hannibal," a victim of low traditional Nielsen ratings, produced 39 episodes in its three seasons on NBC. It starred Hugh Dancy and Mads Mikkelsen and was based on Thomas Harris novels that followed the relationship between FBI special investigator Will Graham (Dancy) and Dr. Hannibal Lecter (Mikkelsen), a cunning forensic psychiatrist.
NEWS OF NOTE
"Walking Dead" Creator and Producers Sue AMC
The creator and producers of mega-hit "The Walking Dead" have filed a potentially billion-dollar lawsuit against AMC, alleging that the series' network has kept "the lion's share" of profits for itself and not properly distributed them to its "creative people." The news emerged one day after creator Robert Kirkman signed an overall deal with US streamer Amazon and a first-look agreement with his production company Skybound Entertainment.
The suit filed in Los Angeles involves recently extended spin-off show "Fear The Walking Dead" and after-show "The Talking Dead." The involved parties include Kirkman and producers Gale Anne Hurd, Glen Mazzara and David Alpert.
"This case arises from a major entertainment conglomerate's failure to honor its contractual obligations to the creative people — the 'talent,' in industry jargon — behind the wildly successful, and hugely profitable, long-running television series The Walking Dead," the lawsuit reads.
"The defendant AMC Entities exploited their vertically integrated corporate structure to combine both the production and the exhibition of TWD, which allowed AMC to keep the lion's share of the series' enormous profits for itself and not share it with the Plaintiffs, as required by their contracts."
The suit details that Kirkman is due 5 percent of profits from the show, with Hurd due 7.5 percent, Alpert 2.5 percent and former showrunner Mazzara 1.5 percent,
AMC is also currently embroiled in another lawsuit filed by The Walking Dead's first showrunner Frank Darabont, which similarly questions how much the network is imputing from each episode.
Freeform to Air "Dirty Dancing" Marathon
Freeform will celebrate the 30th anniversary of theatrical "Dirty Dancing," starring Patrick Swayze and Jennifer Gray, with an all-day marathon on Monday, August 21. It begins at 7 a.m. ET.. The film can also been viewed on the Freeform app and Freeform.com through the entire month of August.
The logline: In the summer of 1963, innocent 17-year-old Frances "Baby" Houseman (Jennifer Grey) vacations with her parents at a Catskills resort. One evening she is drawn to the staff quarters by stirring music. There she meets Johnny (Patrick Swayze), the hotel dance instructor, who is as experienced as Baby is naive. Baby soon becomes Johnny's pupil in dance and love. "Dirty Dancing" also features Jerry Orbach, Cynthia Rhodes, Jack Weston and Jane Brucker.
Casting News
Brooke Shields is joining the upcoming 19th season of NBC's "Law & Order: SVU" in what is described as a major recurring role. Details on her character are being kept under wraps other than the tease that her role will shake up Benson's (Mariska Hargitay) world. Philip Winchester, additionally, will join the "SVU" cast full-time in midseason, reprising his "Chicago Justice" role of lawyer Peter Stone.
Former "Nashville" star Connie Britton will appear in a multi-episode guest arc on the half-hour Showtime comedy series "SMILF," starring writer, director and executive producer Frankie Shaw ("Mr. Robot"). Britton will play Ally, Bridgette's (Shaw) unstable boss who struggles with boundaries and finds herself in constant pursuit of self-betterment. Her expectations for Bridgette's role in her life go far beyond tutoring her kids. "SMILF" will premiere on Sunday, November 5 at 10 p.m. ET, following the 9 p.m. ET season premiere that night of "Shameless."
The Daily Brief Podcast: 39 Days 'Til Fall TV
PromaxBDA Editorial Director Paige Albiniak and Programming Insider Editor in Chief Marc Berman discuss what went down at TCA 2017. Included are the issues of diversity, reboots and the upcoming new network series that show the most promise. To listen, click here
TV Tuesday with Douglas Pucci
This week, Douglas Pucci of The Programming Insider reviews upcoming comedies "The Mayor" on ABC and "Ghosted" on Fox. To listen, click here
TV Comes Out About its Closeted Portrayals of LGBTQ: Click here
ABC to Focus on "American Idol" and "Roseanne" Reboots: Click here
Trump in Late Night: Too Much of an Absurd Thing: Click here
TruTV Keeps Pushing New Comedy Brand Forward: Click  here
PBS Forges Ahead Despite Threat of Federal Funding Loss: Click here
MARK YOUR CALENDARS
Oxygen Media's true-crime franchise, "Snapped" will premiere "Snapped Notorious: Drew Peterson," a two-hour special that takes a closer look at Drew Peterson's volatile history with the women in his life and eventual conviction for the murder of his third wife, Kathleen Savio. The two-hour event will also focus on the disappearance of his fourth wife, Stacy Peterson. "Snapped Notorious: Drew Peterson," premieres Friday, August 25th at 9pm ET/PT. For a sneak peek, click here
Millennial tech entrepreneur Garrett Gee and his sister Miristi Gee travel to the Philippines, the land of their ancestry, for the first time in "Discovering Routes,"the newest original series from Myx TV, the multicultural entertainment network. Broadcast episodes will air Tuesdays on Myx TV's cable channel starting September 12 at 8 p.m. ET, and webisodes will air Mondays and Thursdays on www.myxtv.com and www.discoveringroutes.com beginning on September 7.
Univision and Story House Entertainment have announced that the 12-episode second season of the original series "El Chapo" will premiere Sunday, September 17 at 10 p.m. ET on Univision Network. The logline: Season two kicks off with Chapo's first prison break and goes on to reveal the critical role corrupt government officials play in aiding El Chapo's rise over his rival cartel bosses. Viewers will also begin to see how his quest to become the leader of the Sinaloa Cartel, the most powerful criminal organization in the world, impacts the lives of those closest to him – including his family.
OWN will premiere the eight-episode docuseries, "Released," which features intimate, first-person narratives of formerly incarcerated men and women as they walk out of the prison doors for the first time to restart their lives, on Saturday, September 30 at 10 p.m. ET after an all new episode of "Iyanla: Fix My Life" at 9 p.m. ET. The logline: Through a diary-like lens, "Released" presents autobiographical portraits of formerly incarcerated individuals as they walk out of the prison doors for the first time and during their first 90 days out of prison as each attempt to reconnect with their loved ones, establish their independence and begin the long, hard work of resurrecting their abandoned lives.
PI POLLS
What is your current favorite ABC sitcom? Click here
ON THE AIR 

TONIGHT


NBC's "Hollywood Game Night" moves into the 

Tuesday

 

10 p.m. ET

 hour…Investigative themed "The Murder of Laci Peterson" debuts on A&E…Season premieres: "Tumble Leaf" on Amazon, "The Cars That Made America" on History, "Divided" on GSN, "Leah Remini: Scientology and the Aftermath" on A&E…Season finales: "Six Degrees of Murder" on ID, "Tosh.O" and "The Jim Jeffries Show" on Comedy Central…For the complete primetime schedule for Tuesday, August 15, click here
TRIVIA CHALLENGE    
Carlton's Mama
Who played Carlton the Doorman's mother on sitcom Rhoda?
a) Tammy Faye Bakker
b) Ruth Gordon
c) Ann Sothern
d) Vivian Vance
e) Shelley Winters
c) Carlton's mother never appeared on "Rhoda"
The answer to yesterday's question…
Each one of the following series featured Joe Bologna in a guest shot. Of the five, which aired for the most number of seasons?
a) "According to Jim"
b) "Arliss"
c) "Daddy Dearest"
d) "Everwood"
e) "Martial Law"
Is: a) "According to Jim," which aired on ABC from 2001 to 2009. As for the others…

"Arliss" (HBO): 1996-2002
-"Daddy Dearest" (Fox): 1993
-"Everwood" (WB): 2002-06
-"Martial Law" (CBS): 1998-2000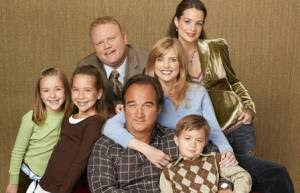 Trivia All-Stars
Mark Amato, Gerry Bixenspan, Tom Condosta, Mark Cosenza, Audrey Davis, Maureen Goldman, Jeff Greenberg, Bob Ingersoll, David Jackino, Mary Kinoshita, Jody McIntyre, Alan Perris, Greg Phelan, Gordon Purcell, Carol Teichman, John Wick