Thursday, July 13, 2017
ON THIS DAY                                                                           
CBS sitcom "Cybill," headlined by Cybill Shepherd and Christine Baranski, concluded in 1998 after four seasons…PBS began airing concerts by the Boston Pops Orchestra in 1970…In 1985, the "Live Aid" concerts held at both Wembley Stadium (London) and John F. Kennedy Stadium (Philadelphia) raised over $70 million for African famine relief…In 1994, Jeff Gillooly was sentenced to two years for his attack on Nancy Kerrigan…Celebrity Birthdays: Former "Star Trek: The Next Generation" star Patrick Stewart is 77; Actor Harrison Ford is 75; Former "Nash Bridges" star Cheech Marin is 71.

-Did You Know?:
In her autobiography, "Cybill Disobedience," Cybill Shepherd stated that the Cybill character was based on herself—or at least what her life as an actress could have been without the successes of 1971 theatrical "The Last Picture Show" and ABC 1980s detective drama "Moonlighting."
RATINGS BOX                                                                            
Wednesday 7/12/17
Household Rating/Share
ABC: 3.8/ 7, CBS: 3.2/ 6, NBC: 2.4/ 4, Fox: 2.0/ 4, CW: 0.4/ 1
-Percent Change from the Year-Ago Evening:
CBS: +28, Fox: – 5, ABC: -12, CW: -56, NBC: -60
Ratings Breakdown:
Annual awards show "The ESPYS" led ABC to Wednesday overnight victory, with a 3.8 rating/7 share in households from 8-11 p.m. Comparably, this was 12 percent below the 4.3/ 8 in the overnights on the year-ago evening (which translated into 5.6 million viewers and a 1.7 rating/7 share in adults 18-49, based on the Live + Same Day data).
In series-premiere news, CBS drama "Salvation" got off to a respectable start with a 3.2/ 6 in the 9 p.m. hour. Comparably, the overnight household retention for "Salvation" out of "Big Brother" (#1: 4.0/ 8) was decent at 80%, and there was no decline in the second half-hour. Additionally, an encore telecast of "Criminal Minds" on the year-ago evening scored a 2.1/ 4, which puts "Salvation" at an initial 52 percent overnight advantage. Of course, since most new shows drop 10 to 20 percent in week two, let's see what happens next week.
Also original last night was NBC's "Little Big Shots: Forever Young" at a 3.8/ 7 at 8 p.m. (#2t) into soon-to-conclude sitcom "The Carmichael Show" at a third-place 2.3/ 4 in the 9 p.m. half-hour. And Fox populated the evening with "Masterchef" (#4: 2.6/ 5 at 8 p.m.) and "The F World with Gordon Ramsay" (#4: 1.4/ 2 at 9 p.m.).
For the half-hour breakdown for Wednesday, July 12, click here
For a look at the overall summer programming landscape to-date, click here 
—–
Live + Same Day Ratings
Monday 7/10/17: Click here
Tuesday 7/11/17: Click here
National Ratings in Syndication – Week of June 26
What follows are the national household ratings, based on both first-run and off-network, for the week of June 26.
"Judge Judy" (CBS Television Distribution): 6.4 rating; "Family Feud" (Debmar Mercury): 6.2; Weekend Adventure (Disney-ABC/Litton): 5.9; "Jeopardy" (CTD): 5.5; "Wheel of Fortune" (CTD): 5.3; "The Big Theory" (Warner Bros.): 4.8; "Law & Order: SVU" (NBCUniversal): 4.2; "The Big Bang Theory" – Weekend (Warner Bros.): 2.8; "Dr. Phil" (CTD) and "Family Feud" – Weekend (Debmar Mercury): 2.7 each; "Entertainment Tonight" (CTD): 2.6; "Modern Family" (Twentieth): 2.5; "Inside Edition" (CTD) and "Modern Family" – Weekend (Twentieth): 2.4 each; "Hot Bench" (CTD) and "Two and a Half Men" (Warner Bros.): 2.2 each; "American Ninja Warrior" (NBC): 2.1; "Live with Regis & Ryan" (Disney/ABC): 2.0 each; "Access Hollywood Live" (NBCU) and "Wheel of Fortune" – Weekend (CTD): 1.9 each
Source: Nielsen Media Research
SERIES RENEWALS AND CANCELLATIONS
Fox Renews "Beat Shazam" for Season Two
Interactive music game show "Beat Shazam," hosted and executive-produced by Jamie Foxx, has been renewed for a second season by Fox. Foxx will return as host and executive producer for season two, along with executive producers Mark Burnett and Jeff Apploff.
Debuting on May 25, "Beat Shazam" pits teams of two against the clock and each other as they attempt to identify the biggest hit songs of all time. In the end, the team with the most money banked will outlast the competition and go against Shazam, the song identification app, for the chance to win one million dollars. The series has featured a number of celebrity guest stars, including Mariah Carey, Snoop Dogg, Terrence Howard and Odell Beckham, Jr.
TNT Orders a Second Season of "Claws"
TNT has renewed its new original drama series Claws for a second season, with an unspecified number of new episodes. From Warner Horizon Scripted Television, "Claws" follows the rise of five diverse and treacherous manicurists working at the Nail Artisan of Manatee County, where a lot more is going on besides silk wraps and pedicures. The series stars Niecy Nash, Carrie Preston, Judy Reyes, Karrueche Tran, Jenn Lyon, Jack Kesy, Kevin Rankin, Jason Antoon with Harold Perrineau and Dean Norris.
New episodes of "Claws," which on average is delivering a multi-platform audience of 6.3 million viewers per episode, air across TNT platforms Sundays at 9 p.m. ET. The first season finale is slated for August 13.
"Claws" is executive-produced by Rashida Jones, Will McCormack, showrunner Janine Sherman Barrois and director Howard Deutch. Series creator Eliot Laurence serves as co-executive producer. "Claws" is produced by Jones and McCormack's Le Train Train, in association with Warner Horizon Scripted Television and Turner's Studio T.
A+E Orders 100 Additional Episodes of "Live PD"
A+E has greenlit 100 additional three-hour episodes of docuseries "Live PD." Produced by Big Fish Entertainment, this extends "Live PD" until at least 2018 (and the total episode count to 142). New episodes will air every Friday and Saturdayevening at 9 p.m. ET throughout the summer.
Debuting on Oct. 28, 2016, the non-fiction program follows police officers in the course of their duties but is unique in the fact that the footage is being broadcast in real time nationally.
NEW PROGRAMMING ANNOUNCEMENTS
Tamron Hall to Develop New Talk Show with Weinstein Television
Tamron Hall, who was a casualty of The "Today" show in February pending the arrival of Megyn Kelly in the 9 a.m. ET hour this fall, is developing a daytime talk show with Weinstein Television. Hall will host and executive produce while Barry Wallach, a former president of domestic TV distribution for NBC, will consult. Weinstein and Hall will also collaborate to develop other non-scripted programming under the terms of their pact.
The proposed series, still untitled, is expected to focus on current events, human-interest stories and interviews with celebrities and newsmakers. The daily series is slated to be shot in front of a live studio audience. Weinstein said the program "will fill the current void in daytime for viewers looking for a blend of heart, humor and information," which is a bold statement considering there are current 13 syndicated daytime talk shows currently airing.
"I've been working towards developing a talk show for a long time, but needed to make sure I did it the right way and with the right person to take the lead,"said Harvey Weinstein, co-chairman of The Weinstein Company, in a prepared statement. "Tamron is far and away that person. She's an exceptionally talented journalist whose interviews masterfully walk the line between entertainment and hard hitting. We couldn't be more thrilled to begin this new venture with her."
MARK YOUR CALENDARS
"We Day," an entertainment special celebrating the transformative power of individuals acting together to create change in their communities and around the world, will be broadcast on CBS on Friday, August 4 at 8 p.m. ET. Hosted by recording artist Selena Gomez, alongside international activists and WE Day co-founders Craig and Marc Kielburger, the broadcast will feature Alessia Cara, James Franco, Josh Gad, Tyrese Gibson, Evan Goldberg, Alicia Keys, DJ Khaled, Demi Lovato, Miss Piggy and other Muppets, Seth Rogen, Hannah Simone, Lilly Singh, Stomp and Oprah Winfrey.
INSTANT REPLAYS
From Clippit

Veto Ceremony Blow-Up on "Big Brother 19"
The following took place during the Power of Veto episode on July 12, 2017. If you wish to avoid spoilers, please STOP reading this item now. Click here
PI POLLS
Julia Louis-Dreyfus is a shoo-in for another Emmy nomination for "Veep" today. But should she take her name off the ballot after five consecutive wins? Click here
ON THE AIR 

TONIGHT


CW adventure themed docuseries "Hooten & the Lady" debuts out of the season premiere of "Penn & Teller: Fool Us"…A+E debuts "Akil the Fugitive Hunter"…Other season premieres: "Impractical Jokers" on truTV and "Life Below Zero"on NGC…Season finales: "Gay for Play Game Show" on Logo; "Beat Bobby Flay" on Food, "Married at First Sight" on Lifetime and "Vintage Flip" on HGTV…For the complete primetime schedule for Thursday, July 13, click here
TRIVIA CHALLENGE    
A Trip to Tokyo
Which TV sitcom featured an episode where the family took a trip to Toyko?
a) "Family Matters"
b) "Father Knows Best"
c) "Growing Pains"
d) "My Three Sons"
e) "To Rome With Love"
The answer to the yesterday's question…
Which one of the following five series featuring a former cast member from NBC sitcom "Friends" had the longest season run?
a) "Cougar Town"
b) "Feed the Beast"
c) "Joey"
d) "The Odd Couple"
e) "Studio 60 on the Sunset Strip"
…Is: a) "Cougar Town," which ran for six seasons" three on ABC (2010-12) and three on TBS (2013-15). For a look, click here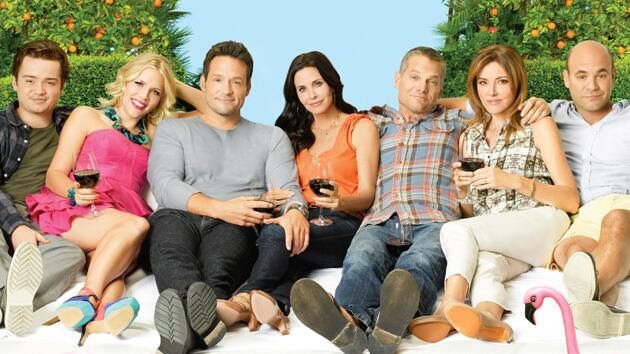 As for the others…
-"Feed the Beast" (AMC): 2016
-"Joey" (NBC): 2004-16
-"The Odd Couple" (CBS): 2015-17
-"Studio 60 on the Sunset Strip" (NBC): 2006-07
Trivia All-Stars
Michelle Bauer, Sally Bialek, Gerry Bixenspan, Matt Bradley, Larry Collins, Audrey Davis, Andy Ehlen, Bob Eisenstaedt, Steve Ellis, John Ferlazzo, Steven Franks, Caryn Gray, Jeff Greenberg, Heidi Hoffmeister, David Jackino, Synda Kollman, Kathy Martin, Jennifer O'Malley, Rich Orloff, Liz Owens, Aaron Paquette, Jodi Perris, Joseph Picarello, Gordon Purcell, Derek Rogers, Anthony Salerno, Art Salisch, Mark Simmons, Carol Teichman, Ralph Tobias, Nina Lisa Tomlinson, Verdi Tzou, John Wick